Louvered Pergola – Perfect for Entertaining!
FLEXfence is perfect to build louvered pergolas over decks. Mechelle Rafferty of Bauble Brilliance built a stunning louvered pergola, complete with louvered walls (as seen below). She can adjust the positioning of the louvers to suit her needs. She can open them to let in sunlight or a refreshing breeze, or close them to create shade or get some privacy.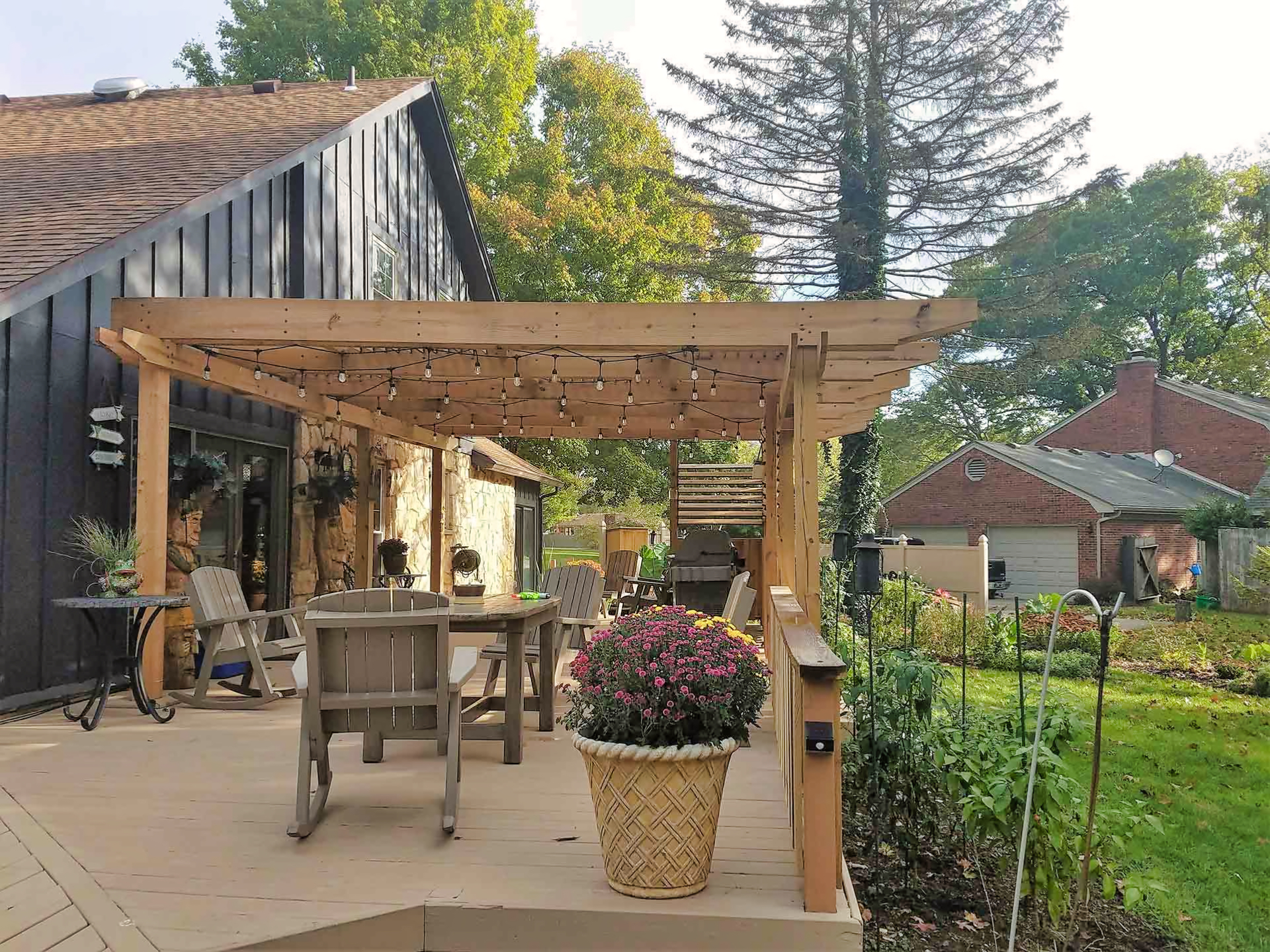 This beautiful louvered pergola over deck is ready to entertain!
FLEXfence is used on the walls to create louvers that surround her barbecue. The louvers can be opened up to allow ventilation when barbecuing, or can close them if the wind is too strong (as seen below).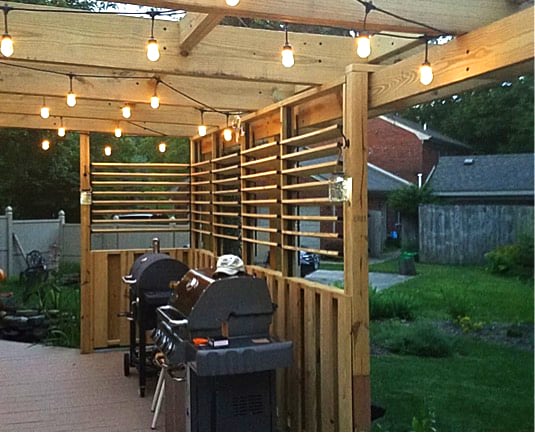 FLEXfence was used on the walls around the barbecue to allow for ventilation.
To open the louvers, push one of the louver blades to rotate all the louvers open. To close the louvers, push one of the louver blades to rotate all the louvers closed. You can also use the operating bar to open and close the louvers.
A Great Tip for building Louvered Pergolas
As we mention in this blog post, building pergolas with FLEXfence might take two to three days to build, depending on your skill level. If you have help with your project, we suggest building the frames first, then build inner frames to fit the rafters, and then install FLEXfence on the inner rafters. For additional information, click here for building plans and here for a video tutorial. Before you know it, you'll have a beautiful louvered pergola fit for all seasons.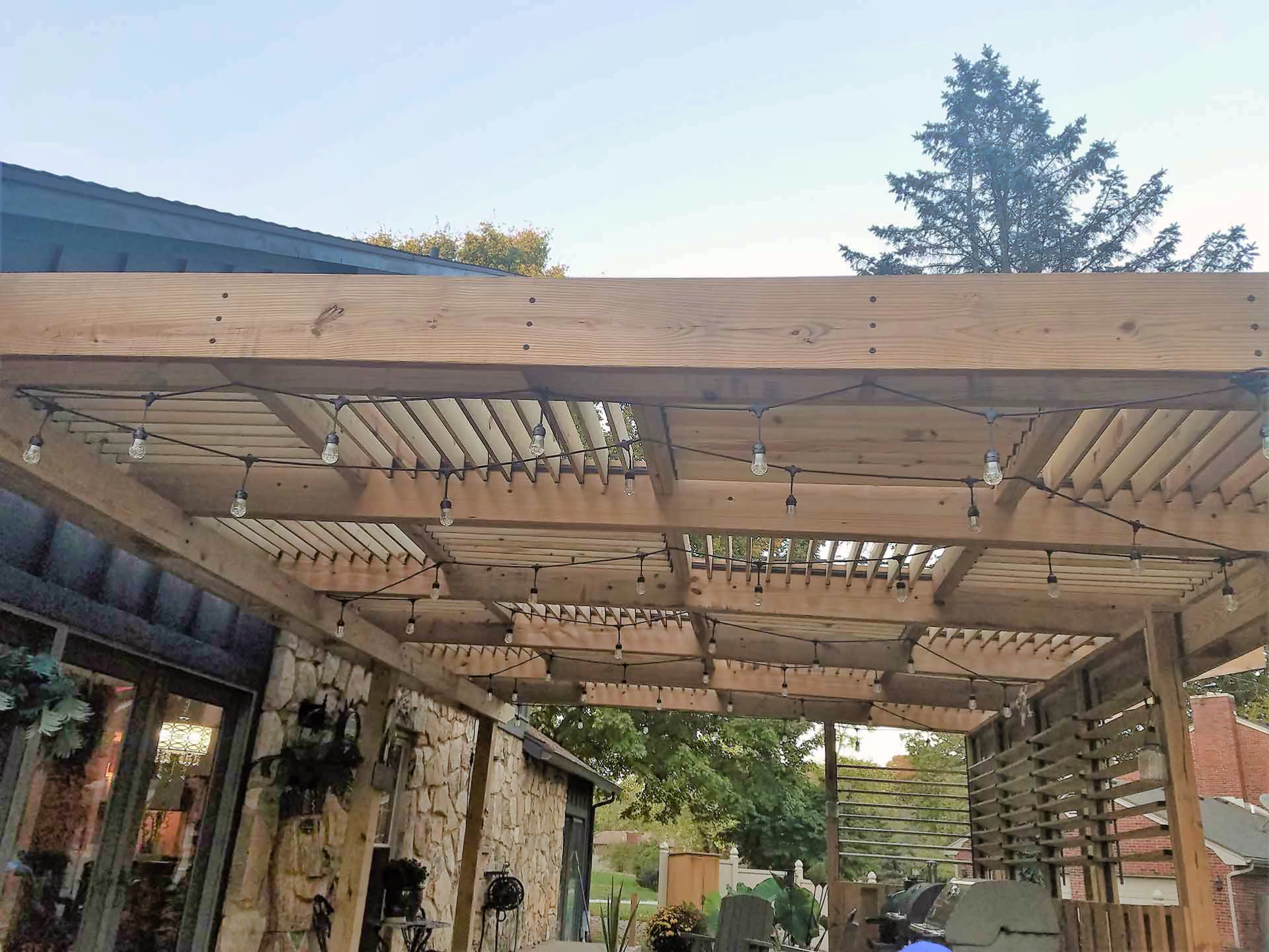 Look at that checker-board design! Beautiful and functional!
If you have any questions or concerns, please don't hesitate to contact our resident carpenter Howie. He's always ready to help!
Mechelle chose a stunning checker-board pattern for her pergola (as seen above). This pattern positions the louvers to run perpendicular to each other. Not only does it look beautiful, but it's also functional; you can block out unwanted sunlight or wind efficiently by closing particular portions of the pergola instead of having to open or close the entire structure.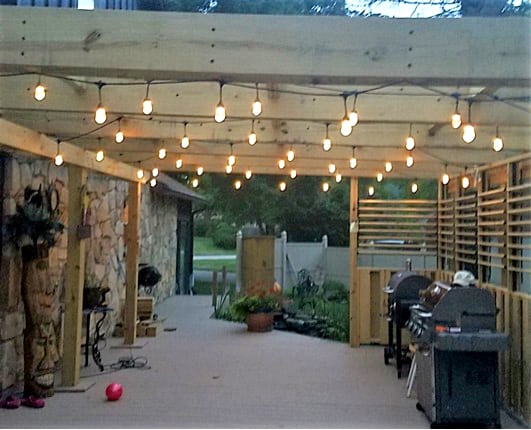 Light it up! Stringed lights were added between the frames of the pergola. Stunning!
This louvered pergola measures 18 feet wide and 20 feet long, ideal for hosting summer barbecues or being a casual hangout spot for friends and family. Mechelle has plans to add an outdoor kitchen under her pergola; the louvered roof and walls allow her to cook outdoors comfortably in most weather by closing the louvers when it's too windy or opening them when more ventilation is needed.
Mechelle loves her new outdoor FLEXfence creation. If you're looking for inspiration, check out our DIY page, or our Showcase page to look at other projects customers have created with FLEXfence.