FLEXfence is a division of Consolaid Inc., a private corporation located in the Greater Toronto Area. Led by Joel Meyers, an award winner and innovator in the consumer product development and invention field. Consolaid specializes in transforming basic ideas into viable products and successfully launching them into the marketplace.
Toll free 1-888-599-FLEX(3539)
Hours of operation: Monday to Friday from 8 a.m. to 5 p.m.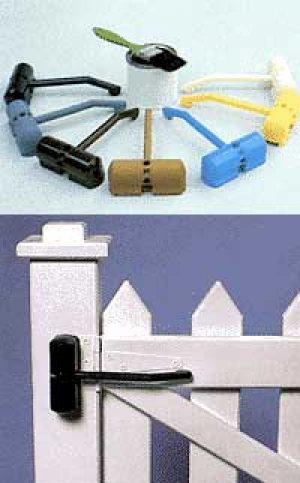 The world's first resin designed automatic door closer, made to suit both interior and exterior doors. Developed for the do-it-yourself market and as an alternative to hydraulic door closers. Product made from Dupont-engineered resin, Zytel® ST801.
Easy to install (only two screws)
Designed for either left or right door openings
Compact and inconspicuous/paintable
Durable (extensively cycle tested)
Heat, ultra-violet and corrosion resistant
Retailed in Canada by Home Hardware, Pro Hardware, Cashway, etc. Retailed in the U.S. by Brookstone, Norm Thompson's Solutions, etc.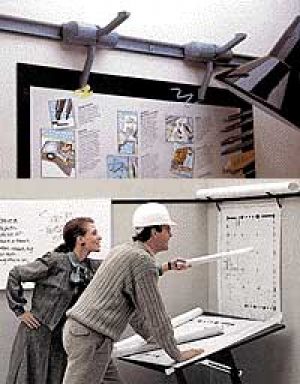 VIEWTRAC™ PRESENTATION SYSTEM
Resin designed wall-mounted presentation system consisting of tracks and two styles of clips. Both clip styles are mobile along the track, allowing users the opportunity to display different widths of material. The "A" clip includes a built-in spring mechanism and tension adjustment that allows for different thicknesses and weights to be hung (tested to handle 10 lb. hang weight). The "B" clips were designed to attach on standard white boards, bulletin boards, etc. and make them mobile along the track. Product made from extruded PVC and injection-molded Dupont-engineered resin Zytel® ST801.
High tech appearance (track can be used as wall molding)
Adjustable tension settings allow for different thicknesses to be hung
Designed as build-as-you-use system (Lego effect)
Retailed in Canada by Grand & Toy Ltd.
Sampling of end-users (for custom-designed systems): Hewlett-Packard, Magna International, Northern Telecom, Boeing Canada, Ontario Association of Interior Designers, etc.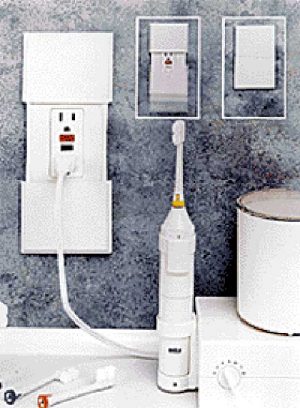 SAFE-LET© OUTLET COVER PLATES
Self-closing electrical outlet cover plate. Built-in spring mechanism automatically covers outlets when plugs are disconnected. Designed to meet North American Electrical Code. UL Listed, CSA Certified, Hospital Spec. Approved, Energy Efficiency Tested (ASTM E283). Manufactured for Duplex (twin hole) and Rectangle/G.F.C.I. outlets. Product made from injection molded G.E. Plastics Cycolac CKM1 (flame-retardant ABS) resin.
Easily opened by adults (including those with arthritis)
Has locking tabs to deter small children from opening
Oversize design to cover slight drywall errors
Available in a variety of colours and paintable
Includes specially designed "closed celled" PVC vapour gasket (tested to reduce air flow 3.2 times)
Retailed in Canada at Beaver Lumber, Pro Hardware, Home Hardware, Wesco, etc. Retailed in the U.S. at ServiceStar, Graybar, etc.
FLEXfence is a registered trademark used under license. Patent pending.
Noryl is a registered trademark of G.E. Plastics.
Microlid is a registered trademark used under license. US Patent #5.302.791 Other patents pending.
The Doorbutler & Viewtrac are registered trademarks of Molvan Enterprises Inc. Patents RD 1986
Zytel ST 801 registered trademark of Dupont.
The Safelet is a registered trademark used under license.
US Patents # 4.810.833 & 4.952.756 and other foreign patents.
Cycolac is a registered trademark of G.E. Plastics.