Top – 4 ft. Section
This plan for a board on board fence with a louvered top has gotten great feedback. Again, adjust to fir your specific needs, and don't forget to read Howie's Tips. He knows his stuff!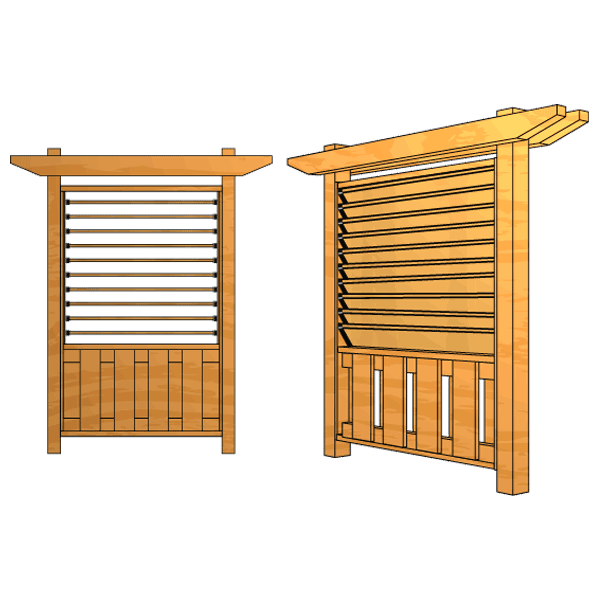 Dimensions
FLEXfence board on board fence with louvered top – 4 ft. section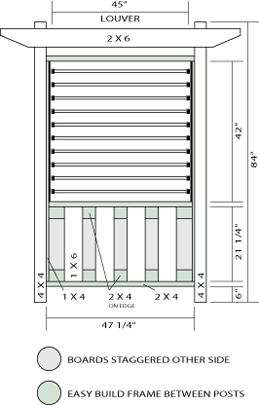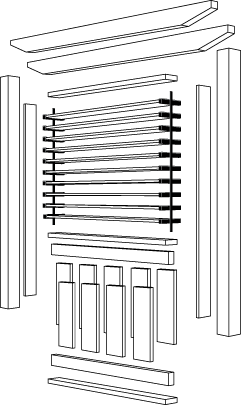 Note
The drawings are to be used as a guide only.
1/kit FLEXfence Cut the kit to 42″ (leave 3″ space from pre-punched holes on each end)
2/pcs. – 4″ x 4″ x 84″
9/pcs. – 1″ x 6″ x 21 ¼"
10/pcs. – 1″ x 6″ x 45″
5/pcs. – 2″ x 4″ x 46 ¼"
1/pcs. – 2″ x 6″ x 68 ¼"
2/pcs. – 1″ x 4″ x 64″
2″ Spiral nails
Exterior grade carpenter's glue
Pencil
Measuring Tape
#1 Robertson Screw Driver-Green Handle or (Philips Screw Driver)
#2 Robertson Screw Drive-Red Handle (Philips Screw Driver)
Hand Saw
Hammer
Chisel
Combination Square
Protective Eyewear
Level
Drill with appropriate bits & counter sink bit
Router with decorative bits
Power saws – Mitre & Skill
When attaching the FLEXfence brackets onto the rails allow for the brackets to move freely (swivel). Do not over tighten!
When sizing FLEXfence always cut the rails and operating bar with hand tools and never with power tools.
Always wear protective goggles.